Hanna Blixt
I am 26 year och I do my second winter in Kiruna with Team Åsa&Kajsa. I have also been working with sleddogs in other places in Sweden. I am certified guide and have been guiding sumer- and wintergroups in our beutiful mountains.
I have been working med sleddogs for more than 4 years and I realy enjoi meetings with our guests and steering the dogsled.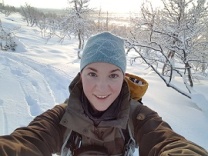 Mattia Violi
I am 21 year and I do my first winter with Team Åsa&Kajsa. I have worked for 2 years in another kennel here in Kiruna. I love wintersports and me and my dog Hero are always ready for new adventures. I like being in touch with people and make them familiar to the dog sleding.